OUR VISION: The globalization of safe neurosurgery through simulation.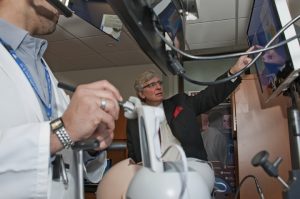 The Neurosurgical Simulation and Artificial Intelligence Learning Centre opened on September 10, 2010 at the Montreal Neurological Institute and Hospital. Lead by Dr. Rolando Del Maestro and his team of dedicated researchers, the centre is making significant progress in moving VR simulation into the world's operating rooms.
We use the interdisciplinary input from a network of neurosurgeons, engineers, programmers…etc to validate realistic surgical scenarios. Our collaboration with the Life Sciences Division at the National Research Council of Canada (NRC) resulted in the development of and publication of the NeuroVR simulation platform. We have also included other surgical specialties in our program with the AO Foundation, including Otolaryngology (Head & Neck Surgery) and Orthopedics & Spine surgery.
Our Research
We utilize NeuroTouch and other simulators with haptic feedback to measure the performance of subjects in appropriate learning environments. We can validate the simulator by developing innovative metrics which emphasize patient safety.We also employ artificial intelligence (AI) as a novel method to gain insight on surgical expertise and personalize training in an objective manner. The end goal is to establish proficiency-performance benchmarks which differentiate between novices and experts, to allow surgical trainees to effectively improve their skills.
Achieving this goal requires us to answer some important research questions:
What is surgical expertise?
How and why do surgical errors occur? Can they be prevented?
How important are tactile, visual and cognitive components to surgical expertise and outcome?
How are is education theory applied to neurosurgery?
What is the role of the teacher, repetition, rehearsal, and other factors to surgical skills acquisition?
What is the role of proficiency-based training and the use of benchmarks?
What is the role of simulation in selection, teaching and retraining of surgeons?