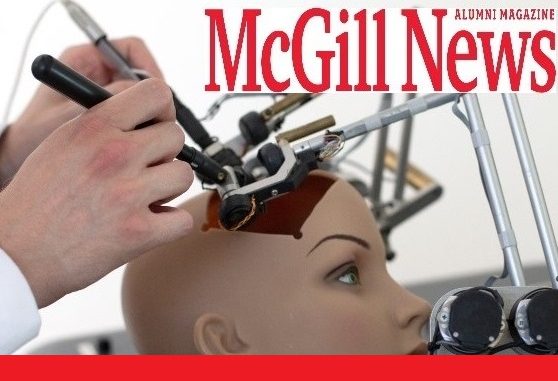 A team of researchers at The Neuro is developing a training system guided by artificial intelligence that can accurately assess the capabilities of neurosurgical trainees during virtual surgery (Photo: Christinne Muschi)
Simulating neurosurgery
by Mark Witten
---
Inspired by the success of flight simulators in training pilots and reducing accident occurence, a team of researchers at The Neuro (Montreal Neurological Institute and Hospital) is developing a training system guided by artificial intelligence that can accurately assess the capabilities of neurosurgical trainees during virtual surgery and offer tailored feedback to improve their skills and efficiency. A recent study suggests that this method could help reduce the chances of error when they operate on real patients.
"Between 30 per cent and 40 per cent of surgical errors are preventable," says Rolando Del Maestro, director of the Neurological Simulation and Artificial Intelligence Learning Centre. "We could substantially decrease these errors if surgeons around the world were trained on simulators to a mastery level of expertise."
A recent study published by Del Maestro and lead author Alexander Winkler-Schwartz, MDCM'14, a neurosurgery resident and doctoral student, supports that argument.
In this study, published in the Journal of the American Medical Association, 50 participants, including neurosurgeons, fellows, senior and junior residents, and medical students, performed 250 complex tumour resections using NeuroVR, a virtual reality neurosurgical simulator developed by the National Research Council of Canada and distributed by CAE.
The simulator enables trainees practicing virtual surgery to feel the density of the tumours they're removing and see blood vessels bleed in a way that mirrors real-life situations.
The McGill team found the best-performing AI algorithm – using just six performance measures, such as force applied and instrument velocity – could predict the level of expertise of each participant with 90 per cent accuracy.
Del Maestro and his team have a patent pending on an AI and VR surgical simulation platform that uses voice and video feedback to assess and instruct students on proper techniques for specific procedures. The system prevents trainees from continuing if they're using incorrect, unsafe techniques. It can say the student is applying too much force on critical, delicate brain tissues, compare the student's technique to proper performance, and then show a video of how to do it properly. Only when the procedure is safely performed can the student move on to the next stage.
Del Maestro and Winkler-Schwartz have also conducted studies using AI and VR simulation to assess trainee performance on spinal procedures. "We chose to start with complex procedures, but there shouldn't be any type of surgical procedure that this approach could not be applied to. Our long-term goal is to globalize safe surgical care by using AI and VR simulation to complement and enhance existing training for the next generation of surgeons," Del Maestro says.
published in November 2019
link to the original article: https://mcgillnews.mcgill.ca/s/1762/news/interior.aspx?sid=1762&gid=2&pgid=2121